» About Peyo Peev
» Music and video

About Peyo Peev
| | |
| --- | --- |
| | Peyo Peev was born on 21 September 1975 in Stara Zagora, Bulgaria. His first interest in music was connected with the children's ensemble Zagorche, then he studied at the Philip Koutev Secondary School of Music in the town of Kotel (1989-1994) and the Academy of Music and Dance Art in Plovdiv (1994-1998). His professional career began in the Philip Koutev State Ensemble of Folk Songs and Dances. After that he participated in the world-famous dance show Riverdance (1999-2000) and since 2000 he has been soloist in the Bulgarian National Radio Folk Music Orchestra. |
During his years at school and as a student he was concert master of the orchestras of his school and the Academy of Music and Dance Arts in Plovdiv, he won twice the "Golden gadulka" prize named after the famous gadulka player Yanko Petrov (1996 and 1997), he participated in the world tour of the Mystery of Bulgarian Voices in Hong Kong (1997) and is one of the founders of Academica Formation (1998).

Peyo Peev is one of the most renowned gadulka players in Bulgaria today. He gives concerts actively and participates in different projects with the world-famous musicians Theodosii Spassov and the virtuoso players Ivo Papazov, Petar Ralchev, Stoyan Yankulov, ect. He has performed with different groups throughout Europe, the USA, Japan amd has made a lot of recordings.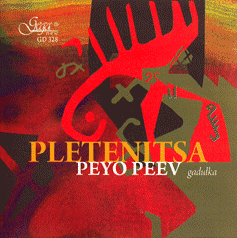 Peyo Peev's first music CD "Pletenitsa" (bulgarian [Плетеница], english [Tangle] ) is an embodiment of his creative and artistic mastership.
1 Pashovo horo
2 Malka impresiya
3 Po graovski
4 Veliko mome
5 Darakchiiska rachenitsa
6 Kato ot Bech
7 Ne znam
8 Salza
9 Razlaka
10 Pletenitsa

His virtuosic performances are harmony with the performance of renowned musicians like Theodosii Spassov, Petar Ralchev, Stoyan Yankulov, Nedyalko Nedyalkov, Angel Dimitrov, Petar Milanov, Hristo Yotsov, Dimitar Bogdanov. The arrangements are made by Georgi Andreev, Hristofor Radanov. However, what impresses most is the diversity and and variety of the songs in the album. They are all brimming over with ceaseless improvisations on the part of these unique musicians.

The ten pieces included in the release are unique in their style and way of presentation. We see the gadulka instrument from a different angle, in a new light. This is due, on the one hand, to the virtuosity of the gadulka player, and on the other - to the musical concert and creative invention of the composer Peyo Peev.